To celebrate Hip Candy's recent birthday (we turned 4 years old on June 20th!) Hip Candy is partnering with Hip Couture to give away the hot little black mini dress below! How you can enter to win below!
Prize:
(1) Hip Couture Mini Dress size 6-8 in Black Striped Chiffon with sequin accents.
Dress value is $115.00.
To enter:
4. Let us know how you would accessorize your dress in the comments on this post. There are no wrong answers! Be your creative, individual self!
You have from June 23, 2010 to July 1, 2010 to enter to win! So enter TODAY! (1) Winner will be chosen on July 1, 2010. See contest rules and details below: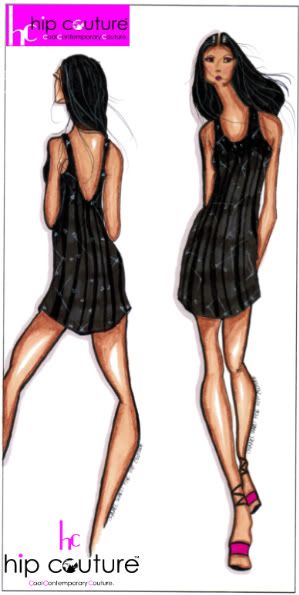 Prize: (1) Hip Couture Mini Dress size 6-8 in Black Striped Chiffon with sequin accents. Dress value is $115.00.
To enter you must:
1. Follow Hip Candy (
@hipcandy
) on Twitter.
2. Follow Hip Couture (
@hipcouture
) on Twitter.
3. *Like*
Hip Couture's Facebook page
.
4. Comment on this Hip Candy post on how you would accessorize your Hip Couture Mini Dress.
This contest starts Wednesday June 23, 2010 and ends on Thursday, July 1, 2010 at 5pm. One winner will be drawn on July 1, 2010. Entry deadline is Thursday, July 1st at 12:00 Noon. The decisions of the Contest judges regarding entries and winner shall be final.
Winner will be notified by email, Facebook message or Twitter DM once chosen.
Winner must claim prize within 24 hours of notification or prize will be reissued.
One entry per person. Odds of winning will depend on the number of qualified entries received.
By submitting an entry, each entrant agrees to all terms and conditions. The winner agrees to be bound by these rules and the decision of the contest judges. Each entrant waives the right to assert, as a cost of winning any prize, any and all costs of verification and redemption or travel to redeem a prize and any liability that might arise from redeeming or seeking to redeem a prize. Winner is responsible for taxes and title fees. Each entrant releases Hip Candy/Hip Couture from any and all liability with respect to or arising out of the acceptance, use, misuse or possession of any prize and/or the loss or misdirection of any prize: Hip Candy/Hip Couture, Sponsor and the Participating Company; their respective affiliates, subsidiaries, divisions, franchises, advertising and promotional agencies; and their respective officers, directors and employees. Hip Candy/Hip Couture reserves the right to cancel, amend and/or revoke this Contest due to printing errors or other mistakes.
Hip Candy/Hip Couture is not responsible for any problems/failures related to any contestant's lost, stolen or misdirected contest entry. Incomplete entries will be disqualified.
Information collected will only be used for the purposes of this contest.

Privacy
Your privacy is important to you. And it's important to us too. Hip Candy/Hip Couture, will not sell, distribute, barter or transfer any of your personally identifiable information to companies, organizations or other parties outside of Hip Candy/Hip Couture without your permission. Simple.